A Clinician's Guide to Foundational Story Psychotherapy
Co-Changing Narratives, Co-Changing Lives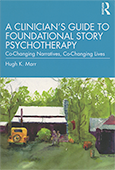 Single Item
Product: 60223
$39.95


This innovative book draws together a range of theories and models to examine the use of narrative psychotherapy in clinical practice and in our everyday lives. Illustrated with case examples and biographical vignettes, this work outlines the importance of foundational and life stories and delineates new techniques for co-assessing and changing our stories.
Author Dr. Hugh Marr is the co-author of the Pearson-Marr Archetype Indicator® (PMAI®) assessment, and he provides a wealth of concrete tools, including the Foundational Story Interview and the Family Origin Map, as well as diagram templates and questionnaires for use in clinical sessions. Integrating theory and practical applications,
A Clinician's Guide to Foundational Story Psychotherapy
introduces a range of therapeutic options rooted in a narrative context and is a valuable resource for practicing and student psychotherapists.
"A Clinician's Guide to Foundational Story Psychotherapy is a breakthrough guide, combining a comprehensive understanding of narrative and its importance in human life with strategies for utilizing this knowledge in finding the client's overarching and subtheme stories, and, when necessary, reframing them to support a richer and more fulfilling life. Dr. Marr's book is certain to become one of the classics in psychotherapy."

—Carol Pearson, PhD, author of Persephone Rising: Awakening the Hero Within and co-author with Dr. Marr of the PMAI assessment and What Story Are You Living?
"Master clinician and trauma teacher Dr. Hugh Marr has created a gem that will be a treasure to all healers. It is about life stories that may limit or empower us. Like authoring a coherent book, we each need to make explicit, clarify, edit, and complete the story of our lives to find meaning, order, perspective, healing, and happiness. Marr explains how to do this with wisdom, warmth, wit, and many clear, practical explanations. This is a brilliant and fascinating read, one that I'll keep and reread."


—Glenn R. Schiraldi, PhD, author of The Post Traumatic Stress Disorder Sourcebook, The Resilience Workbook, and The Self-Esteem Workbook.
---
272 pages Paperback
2020 Distributed Product
ISBN 1138542105
ISBN 13 978-1138542105