What Story Are You Playing?
Archetypal Elements in World of Warcraft—Part 2
This is the second of two articles about the archetypal roles and characters in the online game World of Warcraft (WoW). In the first article, Storywell staff member and longtime WoW player, Logan Abbitt gave us a look at 6 of the archetypes: Warrior, Caregiver, Idealist, Realist, Seeker, and Lover. In this second article, Logan Abbitt gives us insight into how 6 more of the PMAI® archetypes, Revolutionary, Creator, Ruler, Jester, Magician, and Sage, can be represented in the realm of WoW.
(Note: WoW is an online, high fantasy role-playing game. Players create a character to be within the game. Every character has a race and a class. Race in this context is a character's ancestry (Human, Elf, Gnome, Orc, Tauren,  etc.), and class is the character's profession (Warrior, Mage, Priest, etc.). In this article, elements from WoW are in italics and the PMAI archetypes are bold.)
Online, high fantasy games such as World of Warcraft are archetypal in nature: they are symbolic and imaginative, and the world and characters within WoW have timeless, mythic qualities. We are transported to another realm with familiar rules and laws, but also some magic and a good dose of the irrational—elements that create an enchantment often missing in our daily lives, something both WoW and archetypes can give to us. 
The Revolutionary archetype is embodied by the cunning Rogue. They keep to the shadows with a skill that approaches invisibility. They pick locks and pick pockets. In combat, they deliver lethal strikes while remaining unseen. Without being outright evil, the Rogue doesn't follow the rules, but much like the Revolutionary, is "a non-conformist who challenges, and often changes, the rules."1 Revolutionary, rebel, or destroyer, you want the Rogue on your side. 
The realm of WoW is a solid home to the Creator archetype. It is not a class, but rather an entire race that is suited to this archetype; the Gnome. The Gnome race is known for their mastery of technology. Innovative and clever, like the Creator, Gnomes are natural tinkers and often portrayed with a tool in their hands. Anyone can engage in crafting professions such as engineering, but Gnomes are notably more skilled at it, even if half of their creations explode when activated. 
The Ruler archetype can be foisted upon a character whether they intend it or not. The holy warrior known as the Paladin will "gravitate to power and direct the power to achieve goals, keep order, and promote the good,"2 just as Pearson and Marr describe the Ruler. The call of the Paladin is to protect the weak, to bring justice to the unjust, and to vanquish evil. They can tank and they can heal. Paladins emit protective auras that encourage allies to stay close and often find themselves leading the raid, whether they planned to or not. 
The Jester archetype can also be embodied by the comical Gnome race. Gnome emotes (in-game expressions of emotion) are particularly amusing because, like the Jester, "humor and joy in living is paramount."3 This sometimes puts them at odds with the more serious races (or players). Some people hate them, some people love them. What could be more apropos to the Jester? As to classes, the Mage fits the Jester archetype surprisingly well. One of the Mage's greatest powers is the ability to transform opponents into harmless sheep or penguins. They can vanish before your eyes and reappear with a tray of cinnamon rolls. The Gnome Mage is peak Jester. 
While the Magician archetype can certainly be seen in the Mage, a closer look reveals perhaps a more fitting answer; the Druid. Known as alchemist, visionary, and healer, this archetype helps "create change by transforming perceptions in yourself and others."4 The Druid is a healer and a shapeshifter, who can choose a shape to fit their role. Their connection to nature lets them "sense the interconnectedness of events, people, and ideas."5 Masters of change, Druids exemplify the Magician archetype.
The Sage archetype is personified in the Mage class. Both the Sage and the Mage are known for their intelligence. The Mage learns their craft from the Academy of Arcane Arts and Sciences, a place where the Sage would be right at home. One of the base abilities of the Mage is called Arcane Intellect, a spell where they increase the intelligence of those around them. Mages train in a broad variety of magics, making their versatility amazing, adeptly moving from offense to defense to a range of utility spells. A necessary part of any raid, Mages are in high demand. 
These two articles have presented an analysis of how the 12 PMAI archetypes can be linked to character classes and races in WoW—hopefully this provides players with insight into their preferred archetypal roles, in the game and maybe in life, too. But much like the players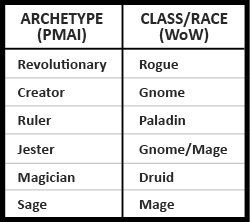 themselves, the possible stories presented in World of Warcraft are many. Not only are the archetypes present in obvious ways like race and class, but there are different roles to play and activities to take part in. One can engage in questing, of course, but there are also fierce battles to be won against enemy factions. A player can spend the entire game crafting or engaging in commerce. There are games within the game such as complete exploration, achievement hunting, or even a miniature version of Pokémon. Story patterns and archetypes emerge amongst the characters, the players, and the gameplay styles. Some players play only healers while others never play healers. There are myriad combinations to try on, and it's not uncommon for one player to try on many hats. They often come back to a 'main,' a primary character that they prefer playing, which, in PMAI terms, may be pointing to an archetypal Ally.  
The question is: what archetypal story are you playing?
1-5. PMAI® archetype descriptions. Storywell. (n.d.). Retrieved March 29, 2023, from https://www.storywell.com//archetypes/archetype-descriptions.htm