Archetypes, Brands, and the Quest for Meaning
In my career in advertising, I was often dumbfounded by the extent to which brands took on meaning for people—often across cultures and over decades. Apple, Coke, Disney, Nike. What made these entities so powerful, with the capacity to transcend time and place?
It may seem odd that someone in my field felt this way; after all, we were viewed as the creators of such meaning! But truth be told, while many advertising people came up with deeply resonant campaigns from time to time, our capacity to fully develop iconic, transcendent brands was limited. We usually had campaigns in our care for short periods of time before a new client brand manager wanted to reinvent the brand, or the client moved on to another ad agency altogether. More often than not, larger-than-life, powerhouse brands were created through lucky accident or, alternatively, the force of personality and vision in a brilliant and charismatic founder. At the same time, legions of brands with the potential to connect with people in powerful ways squandered their meaning and fell into the wasteland of marketing mush.
I thought, what if we could better understand how the quest for meaning—even in the marketplace—is addressed by the few extraordinary brands that break through? And what if we could deliberately replicate that, and create iconic, meaning-laden brands—not only in an effective and conscious way, but in a way that had a positive impact on individuals and on culture?
My search for insight involving the business of meaning led me far beyond the marketing world, to spheres of philosophy, semiotics, psychology—and eventually to archetypes and Carol Pearson's work. I found her archetypal system through the the Pearson-Marr Archetype Indicator® (PMAI®), remarkably well-grounded while also relatable, transparent, and accessible—an unusual combination! And Carol, herself, while at first resistant, became an enthusiastic partner once convinced that we shared a desire to use the power of archetypes to positively impact human development.  
Consciously or not, the more sophisticated members of the marketing community were becoming increasingly "primed" for a concept as new and unusual as archetypal branding. Tired of the vapid notion of "brand personality" usually expressed in the form of a bunch of adjectives attached to a brand's description in a feeble attempt to give it meaning, good strategists were developing disciplines labelled "brand purpose" and "brand ideal." These notions forced the question of the marketing team, "At the end of the day, why does it matter that our product/brand exists; how will the world be a better place because we were part of it?" And of course, those questions provided a perfect segue to the PMAI system, a method that digs deep to unearth the very purpose and soul of an enterprise in order to channel its archetypal potential, and was the basis for my book with Carol, The Hero and the Outlaw: Building Extraordinary Brands Through the Power of Archetypes (2002).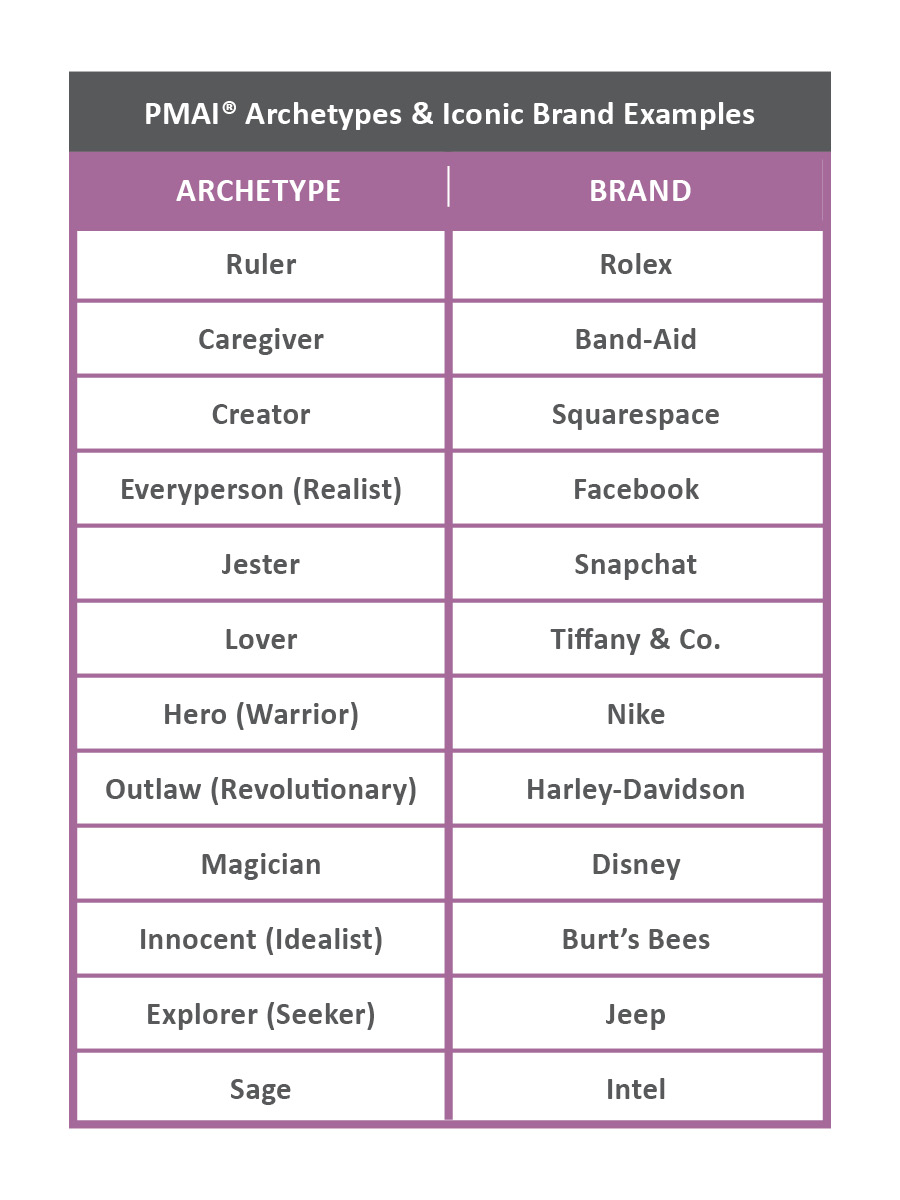 This method of excavating the archetypal meaning is certainly not limited to well-established, global brands and companies! Yes, the driving archetypes of entrepreneurs like Steve Jobs (Apple), Anita Roddick (The Body Shop), Richard Branson (Virgin), and Wendy Kopp (Teach for America) eventually became manifest in the meaning of their powerhouse brands. But in the beginning, it was just their passion and vision that was transferred to each enterprise; to the extent that they and others were mindful and intentional, creating influential and memorable archetypal brands happened whether they realized it or not.
Years ago, I was hired by the Ralph Lauren organization because Ralph and his leadership team decided that while everyone close to him and the brand had fully assimilated his vision, they were facing the fact that thousands of others in the supply chain touched the brand and influenced its meaning. So, we undertook the task of codifying and articulating "What is Ralph Lauren?" overall, as well as how it translated into numerous sub-brands such as Polo, Chaps, Lauren, Purple Label, Black Label and so on. We developed a rich and evocative expression of his archetype, The Benevolent Ruler, and then adapted it for each of the numerous brands in his empire.
More recently, I discovered a gifted cake decorator who had launched a group learning experience business near where my goddaughter, Anna, also an artistic baker, lives. Speaking to this young entrepreneur about her classes, I realized she was afire with the archetypal energies of Explorer, Creator, and Sage. I thought, if she can better understand and harness the archetypal energy of her own passions, and perhaps, determine which archetype is at the heart of what's driving her fledgling business, she might create a magnificent brand, and may well become the Ralph Lauren of the cake decorating world.
*The archetypes listed in the above table are from Pearson and Mark's 2002 book The Hero and the Outlaw; in parentheses are the current archetype names in the revised PMAI assessment.